West Buckland Festival 2013 Events
Thursday 19th September to Sunday 22nd September (More details here)
Tickets for events can be purchased here
Our PROGRAMME for 2013
All the Events described are subject to final arrangements and will be confirmed as bookings are made. This is the 9th year of the West Buckland Festival and we plan that this year the Festival will run from: Thursday 19th September to Sunday 22nd September
Events will range from St Peter's Church Harvest Festival Services to The Gallery Art and Craft Exhibition, to Workshops, MasterClasses and an array of top class evening Events in St Peter's Church as well as a bumper Coffee Morning.
---
Thursday 19th September At 7.30p.m. in St Peter's Church A Preview of The Gallery 2013.
This is a special opportunity to look at all the exhibits that have been entered this year; to talk with some of the Artists and Craftspeople; to buy pieces and to enjoy a leisurely glass of wine.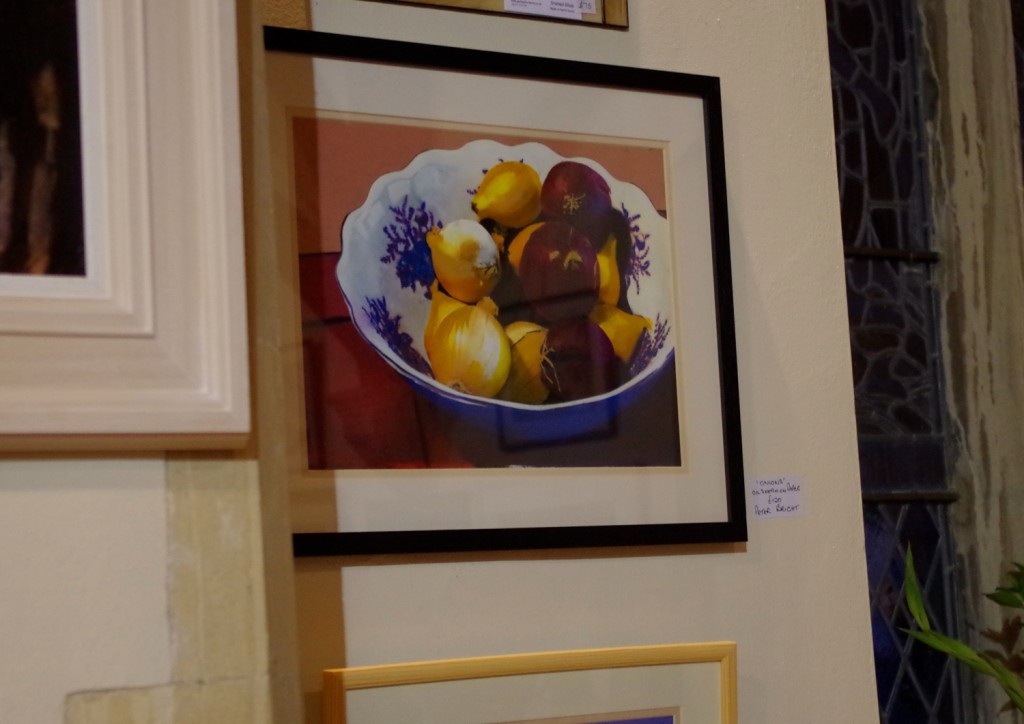 During the Festival The Gallery exhibition will enable visitors to view and in some cases buy works of art by local Devon artists.
The aim of the 'The Gallery' exhibition is to enable and promote selected, amateur and professional artist living within the dispersed communities of North Devon and beyond. Past exhibitions have received critical acclaim and have been remarkably successful for artists and visitors. Diversity has been the success of these exhibitions, with entries ranging from textiles, painting, carving, printmaking and ceramics etc
The entry form can be found here: 2013 Exhibition
---
Friday Night Is Music Night
Friday 20th September At 7.30p.m. in St Peter's Church
More details here
A Concert of Popular Classical Music with a group of highly talented singers and musicians.
Cheryl Brendish - soprano ~ John Hobbs – baritone
Andrew Daldorph – piano
Fiona Robertson – violin ~ Neil Hamilton – brass
Tickets (including refreshments) £12.00 in advance, £13.00 on the door, £6.00 for children under 14. Tickets Here
Following the success of the similar Event last year we shall feature some of your favourite musicians as well as some new talent to give you an evening of Classical Music that you will remember for years.
Photo of Fiona Robertson courtesy of Ian Watson, Studio Scotland
---
Saturday 21st September At 10 a.m till 12 noon. in St Peter's Church COFFEE MORNING in St Peter's Church with freshly brewed coffee and with musical entertainment on the Grand Piano.
10a.m to 5.30p.m. Flower and Vegetable Festival. You can enjoy the wonderful displays of Harvest flowers & produce in St Peter's Church. Donations welcome.
10a.m to 5.30p.m The Gallery Exhibition. View a wide selection of Arts and Crafts in St Peter's Church. Many of the works of art may be bought during the Festival Weekend. Please purchase from the Festival attendant. Make cheques payable to West Buckland Festival .
---
A unique experience for Saturday Night
An Outstanding Evening of Music and Races
7.30 p.m. to 10.30 p.m
in the Memorial Hall of West Buckland School
By kind permission of the Headmaster
'…. mixing those two together made the best evening on the whole cruise' - a passenger on one of Harry's recent cruises around the Greek Isles.
And who knows YOU might win enough in the horse racing to pay for your own cruise.
Tonight the king of music – Harry the Piano
'…a magician with a piano' says Anthony Davis, JAZZ FM,
entertains and gives you the chance to make money on the horses.
First Race, the Bray Valley Wines Chase, 7.45 – followed, after each Race, by Harry the Piano with Jonathan Ralph.
They will MC the evening and Entertain as only they can...
Give ideas on the odds in the six Races so you can place your 'bets on the horses'
Invite you to enjoy a light supper and a glass or two of wine (depends on who is driving!)
Make up a table of 6 or 8 or book your tickets NOW for this very different evening. Entry, including light refreshments, a glass of wine, your Race Card for all six races and all instructions for the evening.

Just £12 in advance and £13 on the door.
---
Sunday 22nd September At 8 a.m. in St Peter's Church, the Harvest Festival Said Holy Communion Service and then ….At 11 a.m. our Harvest Festival Family service. Throughout the Festival St Peter's Church will be open for visitors to enjoy our Art and Craft Gallery and maybe to buy your favourite Work of Art.
The Festival Walk
A walk on Exmoor - Tickets Here - Prepare for an invigorating 3 hour walk in some of the most beautiful and superb moorland in the country and be back and changed in time for …

The Sunday Evening Event
AJ's BIG Band
When did you last enjoy the Glenn Miller Sound?

String of Pearls, In The Mood
Chattanooga Choo Choo
Don't Sit Under The Apple Tree

This is a very rare opportunity to hear one the leading Brass Bands in the UK
Don't miss it
Tickets (including refreshments) £14 in advance, £8 children under 14
MasterClasses and Workshops
Monday 16 September




Tickets £7 each

Workshop - Croquet Master Class

Enjoy an afternoon of learning the secrets of how to be a successful Croquet Player. To be held at The Barnstaple Croquet Club. Wear flat shoes. All equipment provided. 2.00pm - 5.00pm.

Tuesday 17th September


Tickets £7 each 0r £12 for Parts 1 & 2



The Moon - Part 1

An informative and light hearted look at lunar observation for those who want to know a bit more about our nearest neighbour.

7.30pm to 9.00pm at West Buckland School



Wednesday 18th September

Tickets £7 each 0r £12 for Parts 1 & 2

The Moon - Part 2

At the time of the full moon, look at the night sky from the observatory at West Buckland School.


10.00pm - midnight, with the North Devon Astronomical Society


Saturday 21st September

Tickets £10 each - Very Limited Number.



Inprovisation on the Piano

If you love to play the piano, then come along to learn the art of improvisation with Harry the Piano.

2.15pm - 4.15p.m St Peter's Church West Buckland.

In 2013 our chosen charities are:
Help for Heroes, St Peter's Church and West Buckland Village Hall.
The Festival has four purposes:
•  To bring together people from all over North Devon to enjoy good friendship and companionship in a lively Festival environment. The age profile of Festival Goers is 45+ years. Thus the Festival is not a series of gigs though there are always events for young people.
•  To provide top quality entertainment, music and art throughout the Festival weekend with a majority of participants being professional artists.
•  To raise monies for chosen Charities.
• To give a platform to local aspiring young artists and entertainers and especially to give them the experience of working with professional performers and artists.